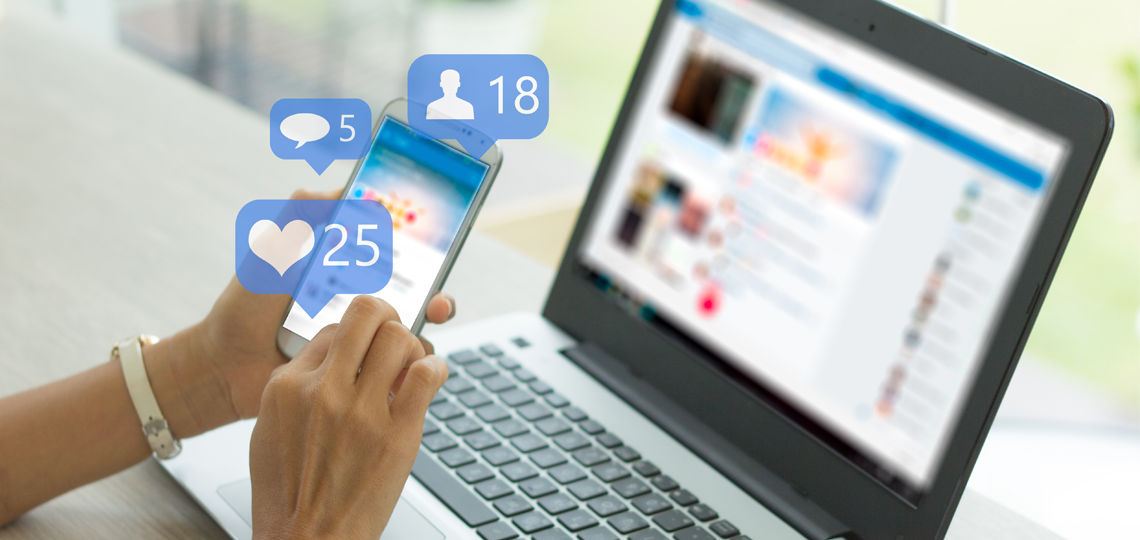 Digital Marketing:
The New Norm!
What is the one golden rule for good marketing? We say it is to make the right offer at the right time and in the right place before customers. Looking at the current and near-future prospects, it seems the best way is to go digital.
The impact of the coronavirus outbreak on the world has been such that several "traditional" ways of doing business got replaced with the "new normal". Business marketers have been facing the constant challenge of both steering through the crisis and planning a post-pandemic growth.
With customers largely staying indoors and browsing the internet more frequently, it is digital marketing that is acting as an antidote to brands during the pandemic.
What is Digital Marketing?
It is the new norm for businesses today when it comes to delivering their message to the best prospects and customers in the present times. Digital Marketing involves promoting and selling products and services using online marketing strategies such as social media campaigns, search ads, and email marketing.
The best thing about digital marketing is that it not just acts as a source of generating leads but also tracks real-time performance in this regard. Besides, it places you in channels where customers can best see you. They can learn more about you, ask questions and express their interest in your products and services with a few clicks and taps.
What are the Top Digital Marketing Strategies?
Digital marketing is very similar to its traditional counterpart in several ways. Not only is it also aimed at the development of mutually beneficial relationships between businesses and customers, but also uses advertising campaigns for greater visibility and to communicate important messages.
Yet, digital marketing has managed to take over traditional tactics because it reaches more customers, makes a more pronounced impact, and produces faster results.
Most purchasing experiences begin on the internet today. Over 1.66 billion people shop online each year; hence, no matter what your business is, maintaining a strong online presence and marketing your products and services digitally is the need of the hour. Ventures can make use of various digital marketing channels to connect to their customers, such as resourceful content, social media posts, PPC networks, email marketing campaigns, and more. Let us deep dive a little into these channels.
Resourceful Content Creation
Having great content in the form of blogs, videos and infographics can go a long way in augmenting your site's search rankings on the internet. Besides, creating useful content that solves customer queries and provides them unique insights, establishes your expertise and industry proficiency. So, creating resourceful content can help you reach out to more than just your regular audience pool.
Social media Posts
Around 55% of buyers first do their research via social media. This speaks of the essence of social media when it comes to digital marketing initiatives. On such social networking platforms, you can engage directly with prospects and customers, stay in tune with the latest trends to gain more traction, and create awareness campaigns to connect with your audience.
PPC Networks
These days, several businesses are investing in rewarding advertisements to drive paid traffic to their website for faster growth. Google, Bing, Pinterest, and LinkedIn are some of the top places to place your ads on. When 88% of customers go online to research products or services, they might not prefer browsing page after page to land on your website. Paid advertisements on search engines and popular social networking sites can ensure visibility and wider coverage.
Email Marketing Campaigns
Simply generating leads or enticing prospects is not enough. To be able to drive conversions, you must maintain the customer's interest in your products and services throughout, from the start to the end of the sales funnel. Email marketing is a great way, rather a must for every business that aims to guide customers from the stage of curiosity to purchase. On average, email marketing has an ROI of 4400%.
What Benefits Can Digital Marketing Have?
Digital Marketing is one of the best ways to leverage the behavioral shift that consumers worldwide are showing these days. But what sets it apart from its traditional counterpart? What makes it the perfect route for businesses and brands to augment their revenues?
Cost-Effective
You can start digital marketing with zero investments – yes, you hear that right. To be able to begin a social media campaign or to generate quality content, you do not need to put in any money at all. Even if you do not want to go the "organic" way because it is certainly quite time-consuming, opting for paid campaigns or even hiring a digital marketing agency to assist you in the process is both cost-efficient and a good investment.
Suits Your Customers
Even your customers do not have the time and energy to spend on researching and comparing endless products available online today. A well-crafted digital marketing campaign can reach out directly to such customers, shortening their purchase journey while lending them an informed perspective and choice.
Generates Customer Loyalty
Digital marketing campaigns, if designed well and used often, can register your brand in the mind of the customer for a long time. This will not just help convert more and new buyers, but will also generate a band of loyal repeat customers who buy more, and more often.
Digital Restaurant Marketing: The New Norm!
The restaurant business has been hit hard by the pandemic. Small and big restaurant owners are constantly struggling against an uphill battle, with nearly 50% losing out within the first five years of stepping into the industry.
Digital Marketing comes forth as one of the smarter ways for businesses to deal with these challenges, retain previous customers and acquire new ones. The key is to maintain touch with customers, and that can happen best online. Restaurants can attempt to re-focus their brand, share social proof and post positive stories about their venture to drive customer experience.
Having said that, digital marketing is a fickle business. The online scene is ever-changing and ever-evolving. Therefore, instead of going for a one-size-fits-all approach to digital marketing, businesses should try to understand the fundamentals and use them as a base to experiment. The new norm demands new strategies for greater visibility and retention. Want to know what they are? Stay tuned for our next article.
---
Are you looking for help with your digital marketing? Book a FREE consultation to speak with our team of experts!