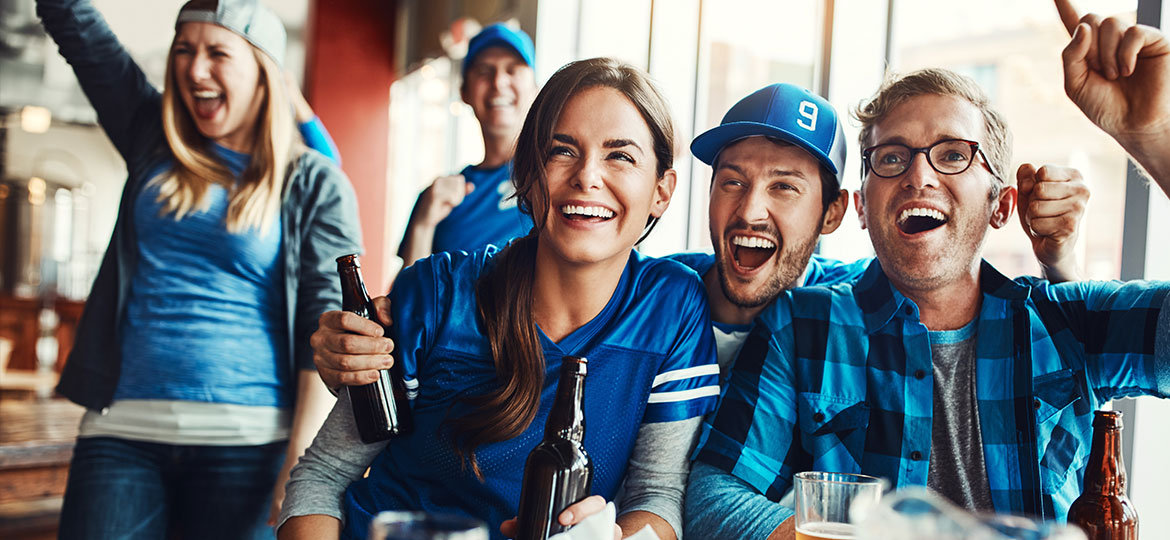 Touchdown! 6 Restaurant Promotion Ideas to Help You Capitalize off the Next Big Game
It's no secret that major sporting events like the Super Bowl or the Stanley Cup are watched by people full of pure passion. To support their favorite teams and players, many people will dress in cool merchandise, decorate their desks with statues and bobbleheads, go to multiple games, and much more.
Did you know that around 1 million people are expected to attend the Super Bowl? That's not even counting the tons of people who will be tuning in on their television.
Incorporating these events into your restaurant marketing is a great way to bring a flood of hungry fans through your front door. There are many things you can do to take advantage of the excitement in the air but we've narrowed it down for you.
Keep reading to learn about 7 restaurant promotion ideas for the next "big game."
1. Host Game Nights
When it comes to restaurant promotion, you'll want to dedicate most of your restaurant space to the incoming sports fans. Once you have the televisions set up, you make every Sunday a game-watching night. Invite the fans to come watch various games throughout the day so they can cheer for their favorite teams.
You can invite fans through various channels, such as social media, a newsletter, fliers, and more. Tell everyone that the best way to experience the sports festivities is at your restaurant where the appetizers are delicious and the beer is ice cold. They'll come for the sports but they'll stay for the food and drinks.
Remember that not all of your customers will be sports fans, so you should still have a small but comfy area for regular customers to come and enjoy themselves.
2. Create an Interactive Experience
One of the most unique restaurant promotion ideas involves interactivity. For example, you can offer special deals that correspond with what's actually going on in the game. For a brief time after every field goal or touchdown, you can have a discount on appetizers or reduced beer prices.
In order to make halftimes more interesting, you can also offer different deals on food and drink. That way, instead of waiting around for the game to start again, the fans can refuel and get hyped for the next half.
If you advertise the fact that you'll have deals and specials during the game night, you'll be able to get away with having a cover charge too.
3. Curate a Themed Menu
Depending on the sports or the teams that people love, you can design a menu with the fans in mind. Whether it's a hockey event, a football event, or something else, you can get creative with your menu. Why not name dishes after beloved teams or players?
Additionally, you can get creative with the food itself. Pastries or other foods that are designed to look like soccer balls or footballs, for example, will simply delight your customers and get them into the spirit of the event.
4. Have Take-Out and Delivery Deals
If you want to do restaurant advertising right, then you should factor in the people who plan on staying home for the game. Some people are decked out with a large flat-screen TV, a surround sound system, and other things to make the experience perfect, so they won't want to leave the house. In that case, you should tempt them with delivery or takeout deals.
You can also promote a themed catering service. Fans will surely take advantage of a wonderful offer to enhance their get-together with awesome food.
All these options are great for profit because they aren't limited to the size of your restaurant.
5. Do Some Grilling Outside
If you invest in a grill, you can attract customers by the sight and smell of the classic sports staple of hotdogs and hamburgers.
Depending on your ambition, you could also turn your restaurant's parking lot into a kind of tailgate party where customers can enjoy themselves outside and go into the restaurant if they need to stock up on special drinks or food.
As you sell your yummy grilled food, you can also hand out coupons for future game-watching events so that you can get your customers to return again and again.
6. Follow Up the Game with an Afterparty
The party doesn't have to end when the last game is over. Instead of everyone going home to celebrate a win or mope about a loss, you can keep the fun going by having an afterparty.
The afterparty can consist of a late-night menu with unique items and additional deals, such as specially priced pitchers or victory cheeseburgers. If the popular team lost, then you can offer consolation prize appetizers.
To make things even more fun and interactive, you can have people compete in sports trivia in order to win cool prizes.
Are Your Ready to Use These Restaurant Promotion Ideas?
Now that you've got some ideas for the next "big game," you can make sure your tables are surrounded by fans who are hungry for delicious meals.
MPP Marketing Group has all the marketing solutions you could ever need. From photography to sustainability, our experts will make sure that your advertising needs are taken care of with ingenuity and reliability. If you have any questions about our highly-rated services, feel free to contact us or fill out a form so we can better understand your needs. We're always happy to help.