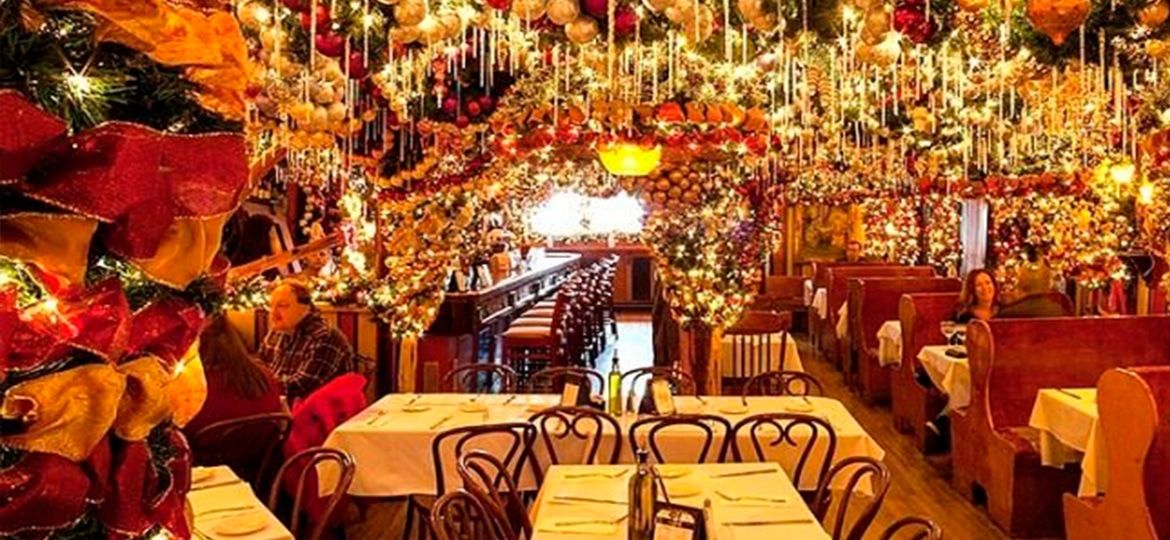 Top 7 Strategies to Boost Restaurant Sales This Holiday Season
The winter holidays rank as one of the busiest times of the year in the restaurant industry, which is great news for restaurant owners looking for a boost in business. If you want to move the needle and drive extra revenue this holiday season, prioritizing specific promotional strategies to attract customers is your straight road to success.
It's not enough, however, to implement new ideas and hope they work – don't forget that news doesn't spread without the town crier. A combination of social media, email marketing, direct mail pieces and physical storefront/point of sale collateral will ensure your specials are being seen multiple times, by everyone.
Keep reading for some SMART (Specific, Measurable, Achievable, Realistic, Timely), effective marketing ideas you can implement immediately to increase sales:
1. Add Seasonal Specials to your Menu
Costing out new menu items is well worth the time, as studies show that 59% of consumers are more likely to purchase Seasonal Items on a menu. Pique customer interests old and new, with your unique twist on classic holiday favorites; a great place to start would be to research trending holiday flavors and ingredients. Depending on your target audience, emphasize the traditional classics, or create some buzz by incorporating seasonal elements to daring new dishes (fully loaded Holiday Pizza with a sage béchamel base,  shredded turkey, cranberry stuffing crumble and gravy drizzle, anyone?).
Seasonal menus are growing in popularity for several reasons, including sustainably sourcing local ingredients, maintaining consumer interest and lowering food costs. This might be the star strategy of your Holiday Season!
2. Offer Holiday Gift Cards
There is no better time to focus on gift card sales than during, of course, the Holidays (read: gift giving season). Make it the easiest gift for your customers to give, by offering savings and incentives. After all, gift cards are one of the top choices for Holiday Gifts among consumers. Whether you offer a BOGO, a discounted rate, or use gift cards as a bonus upon purchasing other items, this is an easy and measurable way to create a significant revenue stream for your restaurant during the Holiday season.
3. Send Out Holiday Cards to Customers
Everyone likes to be appreciated, including your customers. Utilize your database to give your customers the warm fuzzies, coupled with an exclusive offer to celebrate Holidays with their favorite restaurant! Personalize it by including a funny photo of the whole restaurant staff in Holiday gear, or have your staff handwrite the cards, and watch the guests pour in. With this small gesture (and relatively small investment), you could increase customer loyalty by up to 67%. Recognition and excellent customer service are among the easiest ways to retain a loyal customer base.
There are pros and cons to sending both digital vs. print cards, so it's really up to your own personal preference and budget. Sending e-cards is faster, easier and done in the click of a few buttons, whereas physical cards may be more costly (and take longer) to produce and distribute. Don't be fooled by e-cards being the 'greener' option though – it takes coal to generate the electricity you're using to fire off all those emails!
Paper is a renewable resource that is recyclable, and there are forestry stewardship councils to ensure sustainable forestry for paper and pulp. Especially with programs like this one, paper could potentially be a greener option! E-cards can be seen as less personalized and generic, but are received instantly. They are also more likely to get deleted once read, vs. physical cards that tend to be kept for longer.
Whichever one you choose this year – don't forget to include a special Holiday offer, exclusive for your loyal customers.
4. Social Media Games or Contests
It's no secret that every business today must employ a social media strategy in their marketing mix to reach a large segment of their audience, but if it's been a while since you posted on Facebook or Instagram, the Holidays provide a unique opportunity to garner follows and engagement quickly.
Implementing a targeted campaign in the form of a month-long contest, or a daily game that leads to a big draw, will create a huge increase in awareness and ultimately, sales. Getting your customers involved in snapping photos and then re-posting their shots is a great way to generate content quickly, without taking much time out of your operations. Try a daily December tag and share, a city-wide treasure hunt, or offer a discount on specific items when customers share photos of their food.
There is no easier way to generate mass engagement than through Social Media, as Social Networks have now surpassed search engines for product research with Generation Z .
5. Promote Catering Services
This one is a no-brainer, since the holidays are prime time for family, friends and colleagues to get together and celebrate. Parties start as early as mid-November and go all the way through to New Years Eve, so now is the time to be sending your catering menu to every business and household.
Don't have the capacity to host events in your own restaurant? Offer catering delivery services, and include some festive offerings.
6. Give To Charity
As gift giving has become a significant element of the holiday season, many seek out the chance to give not only to loved ones, but to those less fortunate. By demonstrating social responsibility, you will invite customer loyalty and the willingness to share in your generosity. Help others contribute to the holiday spirit by dining at your establishment, and inspire meaningful giving.
Whether you host a food drive, a stand-alone event, or contribute a portion of all earnings for the month of December, get the word out through social media, email and special invitations by mail to join your restaurant in giving this season.
7. Get Festive!
The power of curb appeal is magnified during the holidays, when consumers enjoy being swept up in the magic of the season. Window art, twinkling lights,  a crackling fireplace and decorative wreaths create a warm, inviting atmosphere.
This restaurant goes to the extreme, but even just a few little details create big effects! Try seasonal table dressings, like a small vase of cedar, holly and cinnamon sticks; place poinsettias around the front door; diffuse the scent of vanilla, cinnamon and cloves in the air; let your team dress up in fun and festive gear; the possibilities are endless! Don't be afraid to invite the spirit of the season into your restaurant, and it will invite customers through your doors.
Whatever you do – don't do nothing
No matter how you choose to market your restaurant for the holidays, whether you explore one of the above ideas or get creative with your own, doing nothing will put you behind your competitors who are implementing holiday campaigns.
Click here to explore next steps, or call us at (866) 889-8745 to speak with one of our restaurant marketing specialists.