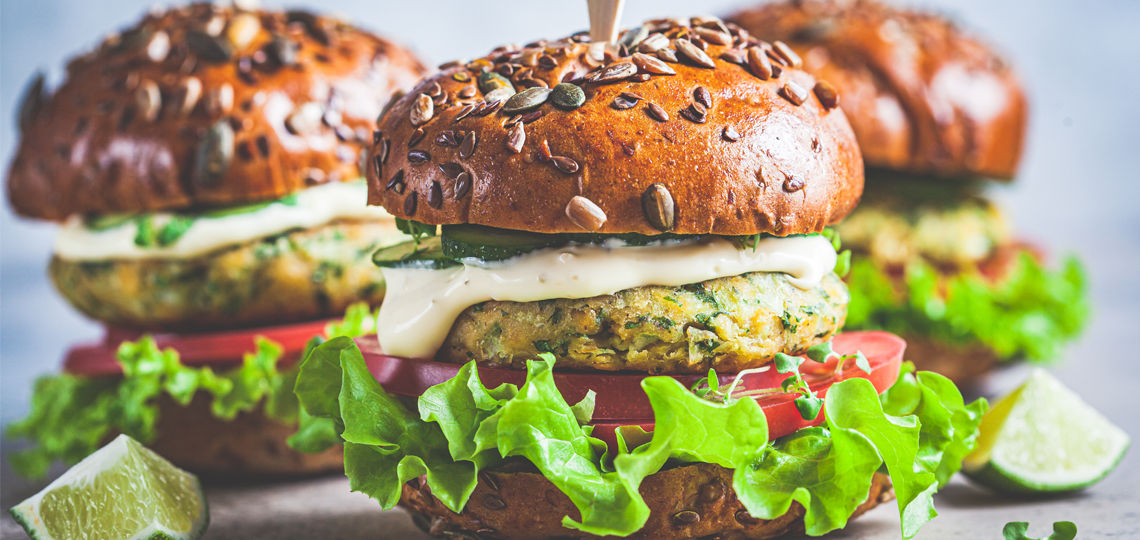 The Many Faces of The
Plant-Based Super Trend
The power-house plant-based movement that took the restaurant industry by storm in 2019 has continued to gain momentum throughout 2020, and it won't stop there.
In fact, this unstoppable meat-free train is only picking up speed.
Industry experts unanimously agree that the global meat alternative trend will continue to grow in 2021, and it's reported that the plant-based market is forecasted to increase from 4.6 billion in 2018 to 85 billion in 2030.
It shouldn't be a big surprise that not everyone eating plant-based foods is on a vegan diet, so what makes this trend different from past food fads is that companies and restaurants are actually selling the exact same brand to people who are buying their product for entirely different reasons.
Industry experts have clearly identified five types of consumers that are playing a role in this unbelievable plant-based trend. With this in mind, it's important for restaurant owners to be aware of their marketing efforts in order to avoid unintentionally missing the mark by not getting the right message to a valuable group of potential consumers.
The Health Conscious
Courtesy of Nelea Reazanteva, Adobe Stock
There has always been a group of health food fanatics out there, lecturing the masses about the dangers of eating processed foods and red meat – but now it seems like people are actually listening.
The health benefits of embracing a plant-based diet are huge selling points, not only to those who have already done so, but also to curious consumers who may be looking to make a change.
With this growing number of health-conscious consumers looking for plant-based menu options, focusing your campaign messaging around nutrition-centered messaging will resonate with this group.
But be careful – restaurant owners need to be aware that healthy restrictive language such as "low-fat" may backfire in other target markets.
Some consumers tend to (incorrectly) assume that healthy foods are less than unenjoyable. Instead, try and find a balance in your marketing messaging that highlights great taste alongside the health benefits.
The Flavour Cravers
Courtesy of Roman Kert Rodionov, Adobe Stock
Health conscience or not, most diners (especially flexitarians) crave the taste of meat.
In fact, a whopping 90% of meat alternatives are eaten by consumers who are also eating meat.
When it comes to appealing to the flavor cravers, you should avoid using terms like "meat-free" because it will be counterproductive to advertise that a food is 'free' of meat if the goal is to appeal to more meat eaters.
Instead, focus your messaging on how great these dishes taste. Always include words like "juicy", "flavourful", and "savory". Using flavour-focused language is a marketing strategy that increases the appeal of plant-based dishes to be as good or better than meat-based counterparts.
And with this group, that's exactly what they need to hear.
The Trend Chasers
Courtesy of Seventyfour, Adobe Stock
This group of customers don't care as much about why they're eating a plant-based meal.
They just know everyone else is doing it.
In order to stay on trend this group will follow the crowd and are always open to new and exciting dining experiences. It's important to realize that this market is arguably the greatest source of business for any restaurant owner.
To reach this demographic, remember to make sure your plant-based products and marketing efforts incorporate on-trend wording and messaging.
Try infusing other trendy ingredients and flavours into your meat-free dishes for a guaranteed way to attract this group's attention (and maximize your profits).
The Value Chasers
Courtesy of Adobe Stock
There is a huge market out there that restaurant owners shouldn't overlook.
When young adults move away to college or university, they have a tendency to opt out of cooking for themselves. This means they're buying three meals a day, all semester long.
Try adding wallet-friendly take out vegan options for a boost in lunchtime sales and an affordable selection of meat-free dinner time menu items when targeting this market.
In 2020 many fast-food and fast casual restaurant chains added vegan and plant-based items to their menu. According to reports, McDonald's will be testing a new line of McPlant products next year – a move that will no doubt appeal to this value-seeking group of consumers.
Make sure to get on board with this trend – it's predicted that the 2021 vegan fast food market is going to explode.
The Eco-Friendlies
Courtesy of Sasin Paraksa, Adobe Stock
Eco-conscious consumers who care about the environment and animal welfare will continue to ask about the sustainability of ingredients.
The fact is, more and more people are paying attention up to the realities of climate change, and issues surrounding factory-farmed meat. The more educated consumers become, the more important it is for restaurants to increase awareness of their sustainability efforts through clear messaging, social media campaigns and package design.
Eco-friendly packaging is quickly emerging as a growing trend in this market. To appeal to this group, try integrating recycled or renewable materials into your business model (and make sure they know it!) This trend alone expected to become a $412.7 billion industry by 2021.
The Take-Away
There is no denying that the plant-based movement is an unstoppable force in the restaurant industry, and there are many sides to the meat-free coin.
Whether for health, flavour, trend, value, or sustainability reasons, vegan statistics show the market of plant-based consumers will continue to rise throughout 2021.
But whatever the reason customers are opting for meat-free, it seems pretty safe to say that this qualifies much more than just a passing trend.
This is a full-blown evolution.
If you haven't already, now is the time to take notice, and take action. Get in front of this booming veggie-filled market of eager consumers before it's too late.
Or you'll find yourself left in the veggie-filled dust.