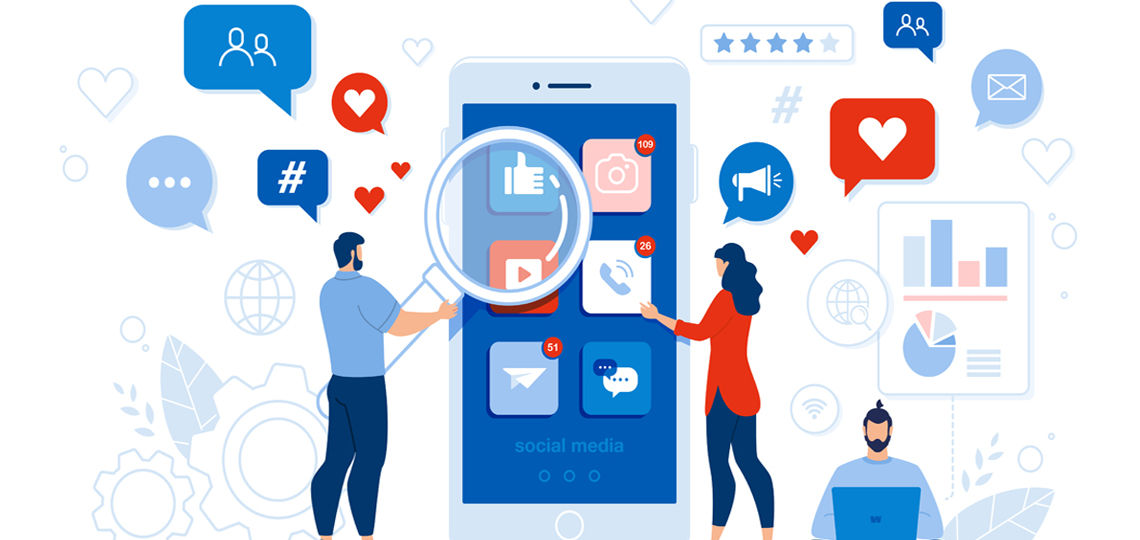 Your Social Media Amplified
It's no big secret how important social media media has become in our day-to-day lives. In fact, there are now 4.2 billion active social media users – almost twice as many as there were just five years ago.
And those users are spending an average of 2.5 hours on social channels every single day.
Social media has quickly become an essential way for companies to reach their customers. When implemented effectively, social media campaigns will lead to more customers, more website traffic and – most importantly – more money in the bank.
Today, one of the most important components of any marketing plan is creating a great social media strategy. According to Social Media Examiner, 97% of small businesses use social media to attract new customers, but a staggering 85% aren't sure what social media tools to use.
Having a social media presence without an active social media marketing strategy can be just as catastrophic for your business as having no plan at all. In fact, 63% of consumers who search for businesses online are more likely to become consumers of brands with an established social media presence.
Let's dive into 5 foolproof ways to amplify your social media strategy so you can stop wasting time and start making money.
Know Your Audience
After you've outlined your social media marketing goals, you need to outline your target audience.
And just for the record, "everyone" is not an audience.
Figuring out exactly who you want to target and breaking down your audience will determine which social media platforms you're active on, what time of day is best for posting, the type of content you publish, and most importantly – the voice of your brand.
You'll end up wasting valuable time if you don't post content that speaks to a defined audience. Spend some time looking at exactly who your audience is – the challenges they face and what brands they already follow. Knowing this can help you understand how your own social media presence can stand out from the crowd.
Once you have a clear idea of who your audience is, it's time to look for ways to reach more people just like them.
Don't Be Afraid to Pay
Like it or not, social media is no longer the "free" channel it once was.
While there are still plenty of ways to use platforms organically, the fact is that the time spent writing posts and uploading content to social media will fall on deaf ears if you aren't making sure it is seen by the right people.
In more recent years, Facebook has introduced several algorithms that make the benefits of paid advertising over organic content just too accurate (and lucrative!) to ignore.
With paid ads, you have the ability to target your potential customers based on their demographics, interests, lifestyles, and geographic location – right down to the street they live on.
And it's not just paid social ads that should be included in your social media marketing budget. Influencer marketing is another easy way to target your customers and get your brand noticed by thousands – if not millions – in one strategic play.
From offering free product samples in exchange for posts to using a pay-per-post model, connecting social media personalities whose social profiles are followed by your target market is always going to be a win-win.
The good news? Both social ads and influencer marketing can have an incredible ROI. Between laser-targeting on Facebook or tapping into influencer audiences, a paid strategy should never be overlooked in your business' social strategy.
Grow Relationships, Not Just Followers
This is a big one, folks.
When using social media to reach your customers, it's important for a brand to connect with their audience on a personal level. One of the biggest mistakes a business can make is coming across as a faceless corporation lacking any real personality.
A "human" social media presence has become an expectation among many followers. Don't be afraid to be personable, funny, and speak to your audience as if they were your friends. Whether it's office photos or candid videos of your team – showing your followers a more personal side can help you form that much-needed connection.
Once you've connected, make sure to engage. Always respond to questions and comments (good or bad), and start conversations of your own.
After all, having 100 followers who regularly engage with you and your content are infinitely more valuable than 10,000 that ignore you.
Creativity is Key
The fact is, whichever social platform(s) you're posting to, it's all about the visuals.
Great photo and video content will always sky-rocket your social engagement and maximize the impact of your messaging.
The good news? Getting visual doesn't necessarily mean you need expensive equipment or a full-blown production budget.
Although professional photography and videography is always a stand-out investment, you can also up the creativity-anti with budget-friendly content like behind-the-scenes photos and videos, customer content, and infographics.
Whatever you're posting, it's important to remember that eye-catching, creative content has the powerful ability to catch the attention of potential customers and force them to take notice.
Remember, there's a lot of noise out here on social media – so make it a goal to break through it.
Take Advantage of Scheduling Tools
One thing that all the biggest brands all have in common is they all post to their social media profiles on a consistent basis.
But seriously – who has time to put aside hours each day to plan, take pictures, write captions, and post to different platforms amongst the hundred other tasks you have on the daily agenda?
Enter: Scheduling Tools.
Today, there are many different social media scheduling platforms that allow you to schedule content to upload to your pages at any time of day, to many different platforms.
The biggest benefit to scheduling social posts is saving time. When you can schedule a bunch of posts in advance, you don't have to be thinking about it throughout the day.
And taking the time once a week or month to make a schedule does double duty of keeping your social media presence organized while also maximizing your contents' reach.
Keep in mind, however, that you can't expect to successfully put your social media presence on autopilot and walk away. You still have to put some work in – just not nearly as much.
The Takeaway
The fact is, there really is no "secret" or turnkey solution for a better social media presence. It just takes a little research, a little planning, and a little creativity.
And remember – when developing your social media strategy, don't be intimidated by the competition, learn from them. From start-ups to brands with blockbuster budgets, the principles they use to create an awesome social presence can be replicated by businesses of all sizes.
To learn about your customer; speak to your customer, listen to your customer. Social media is where they are, and they're waiting to hear from you.
---
Are you looking for help with your digital marketing? Book a FREE consultation to speak with our team of experts!